© Lamination Preservation Gallery established 1995 Capital District -Albany, Troy, Saratoga, Schenectady, Guilderland NY

Plaque Mount - "
Classic"
Our Gallery Plaque Mount: A true Classic with
it's simplicity.
Our Plaque is 3/8" in depth and is solid MDF.
This budget friendly product offers you both
quality and value. Ideal for smaller items. It's
the perfect choice for photos, certificates, kids
art, calendar pages, letters of recognition /
achievement.
This style is perfect for images as small as 3.5"
x 3.5". For the best product performance we
recommend a maximum size of 24" x 36".
Styles -
Our Plaque Mount and Flush-Box Mount
Are the cornerstone styles of our collection. From these two styles, we create all the other styles in our Gallery
Mount Collection. The quality of our craftsmanship, product features and materials - substrates, our fortified dry-
mounting process, premium lamination film, custom built in hanging system remain consistent throughout all of our
styles. Only the options change. Options you may choose to add include: Canvas or Satinex lamination, mattings,
filets, floating layers or even a traditional frame! Best of all, there no extra charge to laminate and mount odd sizes!
Our Substrates
All options are available on either the 3/8" Classic Plaque or the
7/8" Signature Flush-Box Mount. The 1/8" Masonite is used when
we "Float" a layer. As well as when you would like to be able to
frame your photo / poster with a traditional molding.
Options you may add include Canvas or Satinex lamination,
mattings, filets, floating layers or even a traditional frame!
Dress-up and personalize your art with your own artistic flair!
Plaque Mounting and Flush-Box Mounting by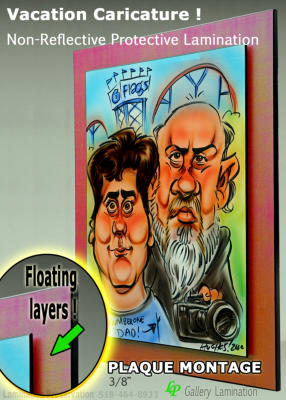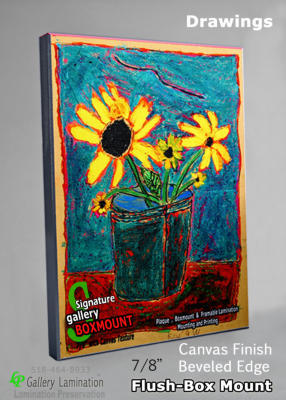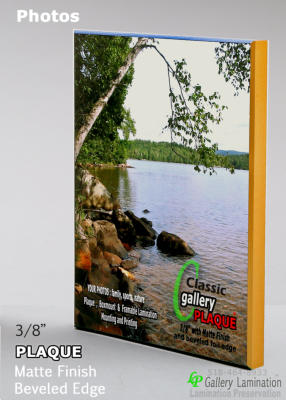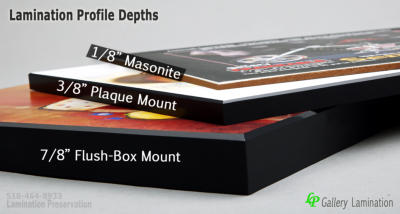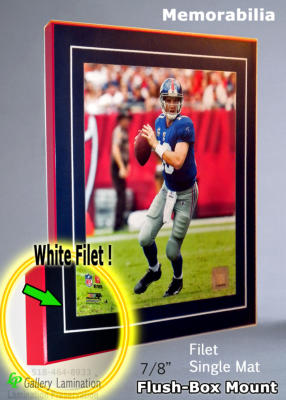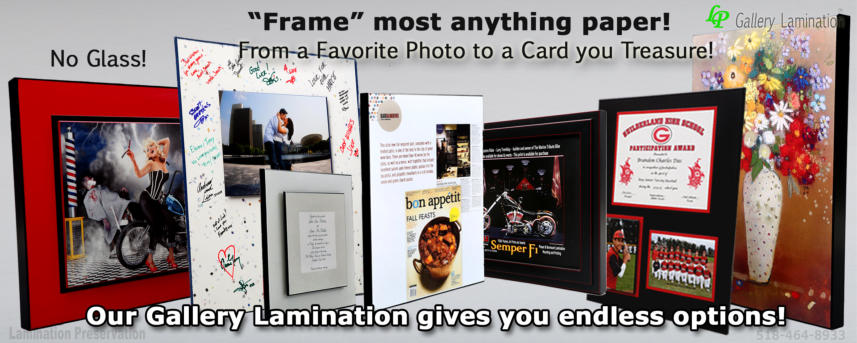 Options
Flush-Box Mount - "
Signature"
Our Gallery Flush-Box Mount: Our Signature
style.
Our Flush-Box Mount is 7/8" in depth. Crafted
from 1/8 solid MDF with a 6/8" deep Rail
Molding. Our Rail Molding is what gives our
Flush-Box Mount it's depth and strength.
The Flush-Box Mount is lighter in weight than
the plaque and is hollow in the back! Perfect
for large items. Showcase your art prints,
posters, maps, photo enlargements, graphics or
over-sized printed graphics.
This style is for images as small as 8" x 10 " up
to 4 feet by 8 feet.
Our Laminate Finishes
All of our films or of the same premium quality.
The choice of which to use is based on the
effect you wish your image to have.
Our Non-Reflective Matte film is the standard
finish on our products. The Non-Reflective film
provides a dead matte finish.
Optional films are Satinex and Canvas. Our
Satinex finish has a slight shimmer and it
enhances colors.
Our Canvas finish enhances your image with a
heavy cross-hatch pattern. The pattern is
within the Lamination film itself. It is perfect
for prints that your would like to make look
like a painting.
The films are applied directly to the surface of
your image. We do not "transfer" or reproduce
your image. We use your original image.
Floating Layer - "Montage Mount"
Also available in either the style: Plaque 3/8"
or Flush-Box Mount 7/8". Your photos,
diplomas and Art Prints will "Stand Out" with
this look! The image / document is raised and
floating above either a single or double mat.
Impressive!
All Enhancements are available in both the Plaque or Flush-Box Mount styles -
Enhancements to select from: One Mat. Two Mats. One Mat with a Filets (Pin-Stripe). Gold or Silver Foils. Floating
layers. Even add a traditional frame molding.
These options will enhance the look of any photo, poster or drawing. Diplomas and certificates look professional and
prestigious. Dress-up and personalize your art with your own artistic flair!
Mattings & more - "Accent Mount"
Available in either the style: Plaque 3/8" or
Flush-Box Mount 7/8". Single or double matting
will accent and enhance the look of any photo,
poster or drawing. Hand place Pin-stripe filets
will make your image pop. Artistic!
GALLERY LAMINATION -
OUR STYLES and MANY OPTIONS!
Style Options and Enhancements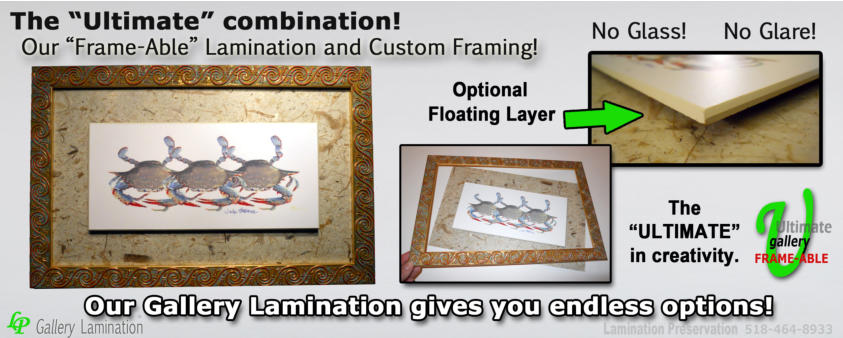 You image goes on top of the matting. The matting goes completely under your image.
Complement your image with endless combinations -
Our options range from sleek and simple to extreme! Every project is unique!
Our Artisen Edge Finished
Select from a variety of stylish Artisan Edge
Colors to perfectly complement your Art. Our
edges look perfect on all styles of Art and on
all sizes. Each Gallery Lamination is made and
finished individually. Just for
your

Art.
The majority of color is seen from the side of
your image with about 1/8" of color showing
on the bevel from the front of the image. Our
Gallery Lamination Mounts are profiled with 90
degree corners, straight sides and a sleek 45
degree bevel on the front.
Our Artisan Edge Finish will not leave marks on
your walls like the painted edge finish you see
on plaques from big box store companies. Our
finish is the same finish that's applied and used
in making beautiful furniture and cabinets.
The perfect complement to your Art /
document without over powering your image!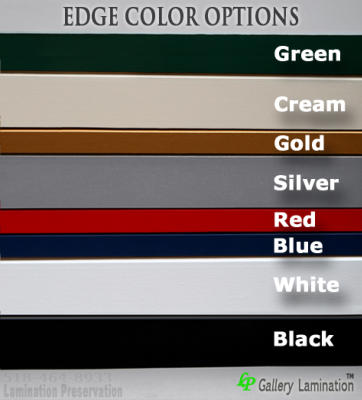 Masonite Mount - The "Frame-Able" & The "Ultimate"
All the benefits of our Gallery Lamination and Custom Framing.
The "Frame-Able" is designed to be used with a frame. It is an 1/8" thick masonite and will fit perfectly into a frame
channel. The entire surface of the masonite can be your image finished with one of our Premium Lamination Films.
The "Ultimate" is our "Frame-Able". Jazz it up with matting, filets & floating levels for the "Ultimate"combination!
It can be as simple or elaborate , as you would like!